SECTION RC3 – IN ALTERNATIVES ANALYSIS PHASE
Construction Start: Fall 2026 (Anticipated)
Construction Completion: Fall 2030 (Anticipated)
Cost: TBD
General Contractor: TBD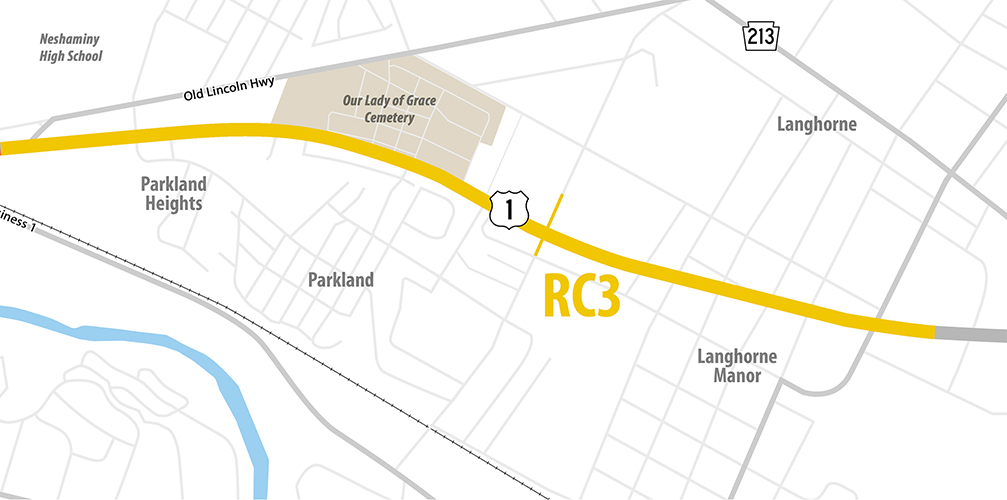 ---
ROADWAY IMPROVEMENTS
U.S. 1, RC3 Improvements extend from a point north of the Penndel Interchange to just north of the Corn Crib Lane overpass. Section RC3 will include improvements to:
U.S. 1
PA 413 (Pine Street)
SR 2008 (Highland Avenue)
SR 2045 (Old Lincoln Highway)
Corn Crib Lane
North and southbound frontage roads
West Interchange Road
RC3 Typical Sections
RC3 Roadway Plans
SR 0413 (Pine Street) – Initial Opening Day Layout
SR 0413 (Pine Street) – Ultimate Layout (approx. 2035, depending on actual traffic volumes/growth)
Section RC3 is currently in alternatives analysis. Check back for updates.
Please click here to view the archived version of the Public Design Alternative Presentation