Bridge Construction Continues at Three Locations Along U.S. 1
Construction progresses this fall on three new bridges being replaced under the $111 million project to widen and improve U.S. 1 in Bensalem and Middletown townships, Bucks County.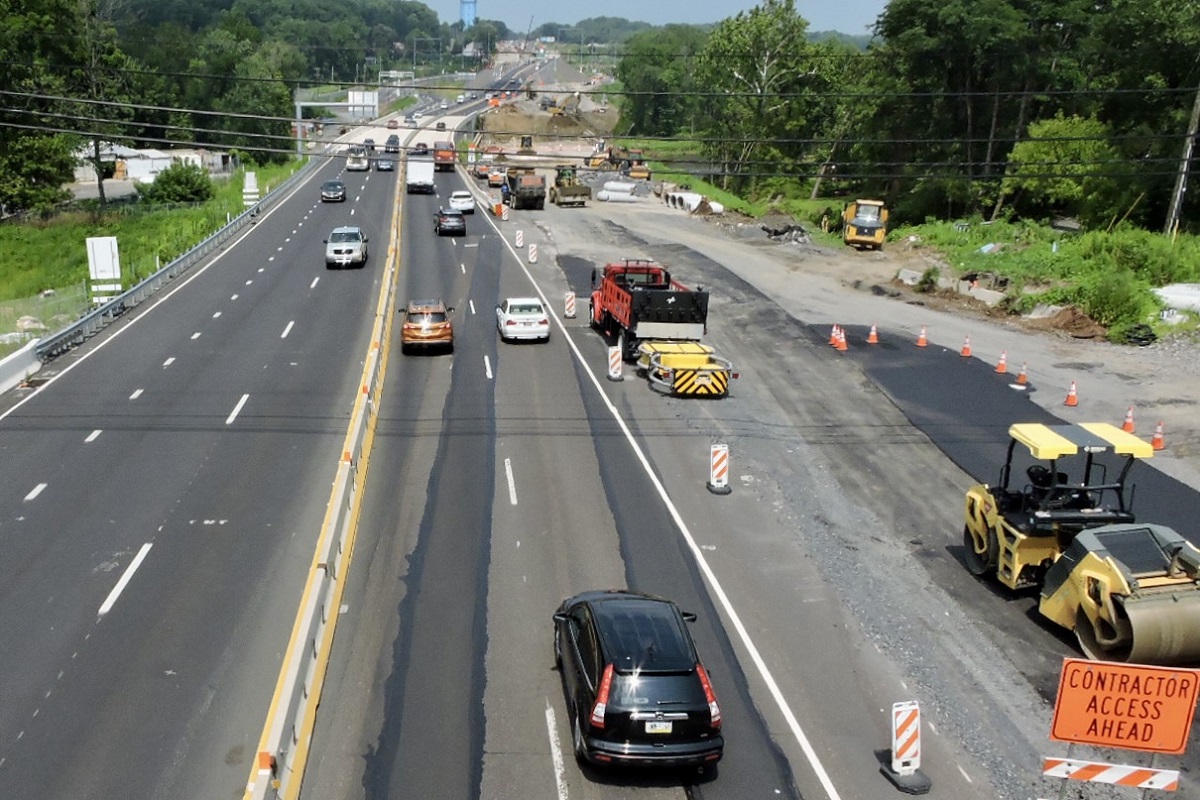 New structures over the Neshaminy Creek, the Penndel/Business U.S. 1 Interchange and adjacent rail lines, and Rockhill Drive at the Neshaminy Exit remain in various stages of construction.
The northbound side of the old bridge over the Neshaminy Creek was dismantled over the summer, and crews are now building abutments and a center support column for the new northbound span. The new southbound bridge over the creek was finished earlier in the year and is now carrying four lanes of northbound and southbound traffic (see above).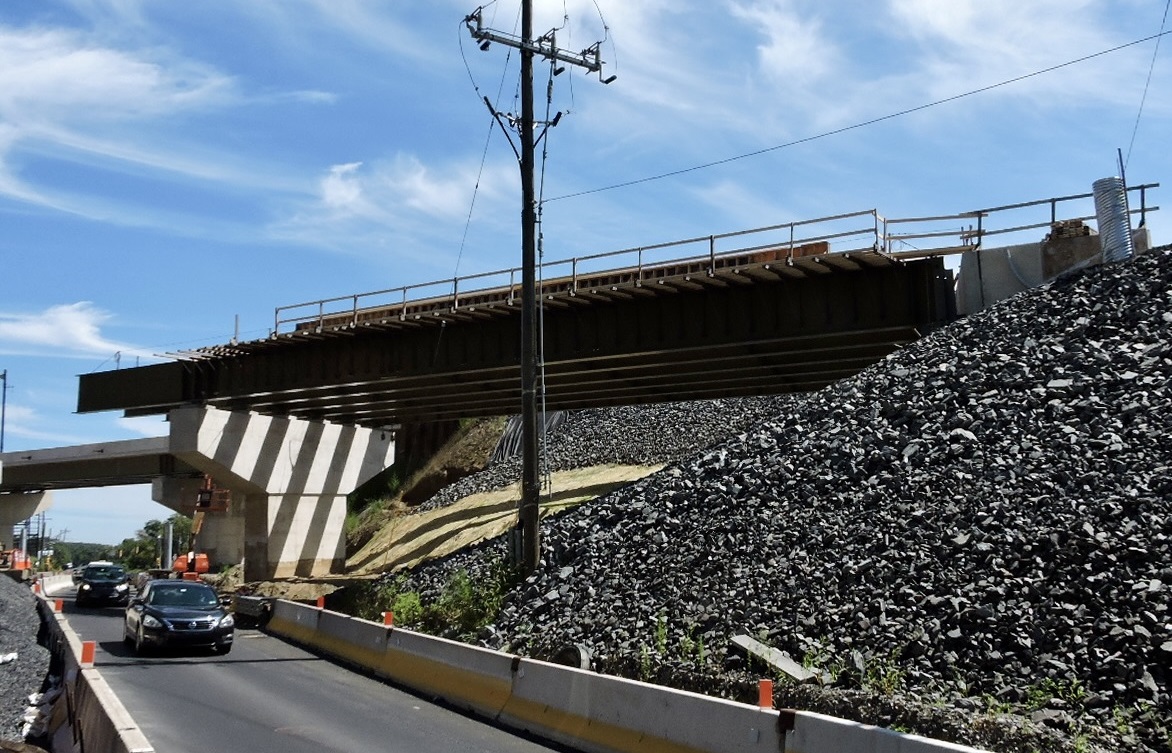 At the Penndel/Business U.S. 1 exit north of the creek, traffic is using the new northbound bridge over the interchange while the adjacent southbound structure is being built. Crews set deck beams for the new bridge in late summer (see above) and will continue the process of building the new bridge's deck through the remainder of the year.
At the Neshaminy exit south of the creek, where work on the new northbound bridge finished in mid-summer, construction is now underway on the new southbound side of the overpass at Rockhill Drive.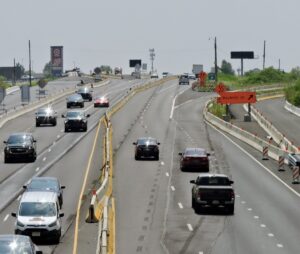 The new northbound off-on ramps at Rockhill Drive, now both located at the southeast quadrant of the interchange, are in service while work continues on the ramps on the southbound side of the interchange through next spring (see right). While the on-ramp to southbound U.S. 1 is still closed for construction, the southbound U.S. 1 off-ramp to Rockhill Drive remains open during construction.
Activity on U.S. 1 between the Turnpike and the bridge over Rockhill Drive has shifted to the median area, where crews are installing new drainage components and sign structures prior to constructing new pavement (see below).
Section RC2 is part two of PennDOT's three-phase project to improve four miles of U.S. 1 in Bucks County by reconstructing and widening the pavement, building several bridges, and improving several interchanges along a continuous three-mile section of highway in Bensalem and Middletown townships. RC2 construction is expected to be completed in mid-2026.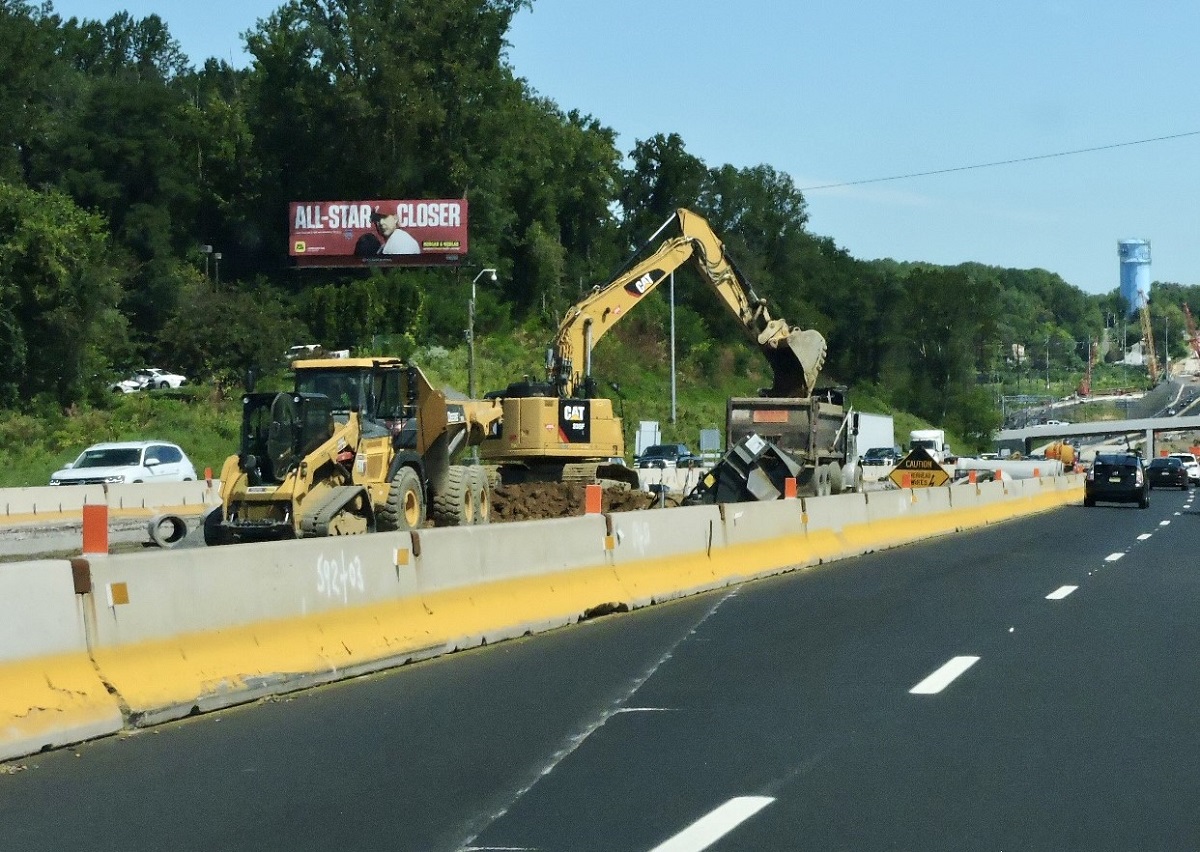 PennDOT in 2014 completed $14.8 million in improvements at the U.S. 1/Maple Avenue Interchange in Middletown Township as part of their overall initiative to modernize and upgrade the U.S. 1 corridor in Bucks County.
A third project, RC3, will improve U.S. 1 from the Penndel/Business U.S. 1 Interchange north through the Route 413 overpass. The project remains in Final Design and is not yet scheduled for construction.